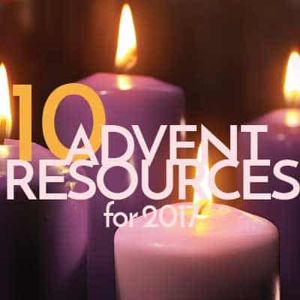 It's Christmas time once again. It is my favourite season and advent has to be one of my favourite journeys every year. (See last year's post) Advent is not as strict as Lent, and there are no rules for fasting, but it is meant to be a period of self-preparation. The purple color associated with Advent is also the color of penance. We would like to help you find Advent 2017 apps, and resources to make it a great season.
In preparation for the beginning of the wonderful season of Advent, here are 10 Apps, music and resources that are going to help you make this Advent, your best advent yet. Sunday, December 3 starts this year's journey!
My Top Advent 2017 App
Xt3.com has put together a number of fantastic apps, like their Xt3 Lent HD App (which we reviewed over here). Each day you will see a new feature, including a daily reflection and bible quote, as well as a multimedia item of interest. You will only be able to view the calendar features up to the present date. The first calendar feature will appear on 3 December 2017, the first Sunday of Advent. An internet connection will be required to view linked content, so make sure you have an adequate data allowance with your device when using the Advent 2017 Calendar. Xt3.com and the Xt3 Advent Calendar is an evangelisation project of the Catholic Archdiocese of Sydney. Here are some of the screenshots from last year!!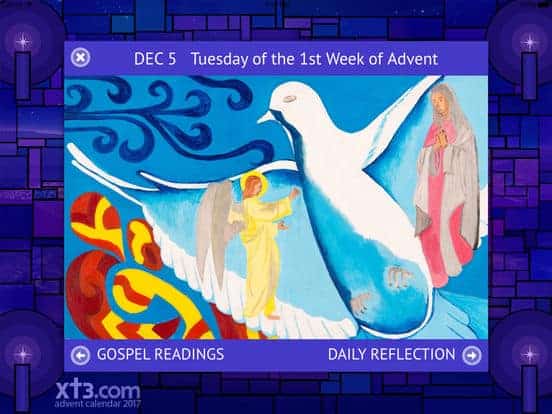 The app is available on iOS (iPhone) and Android. There are two versions for iOS, HD (higher resolution) (iPads) and the smaller version for phones. Xt3.com and the Xt3 Advent Calendar is an evangelization project of the Catholic Archdiocese of Sydney. An excellent tool for helping us focus on Christ throughout Advent.
Advent Magnificat Companion 2017 Ebook ($2.99)
We loved the Magnificat app for the rest of the year, (Android) (iPhone) The special edition apps have been removed from the app store, but they are available in ebook, kindle, Nook, Kobo format. The app (2017 App) was just another way to access this great resource. At $2.99 it is worth it, I have paid much more for printed books for advent, and it right there on my phone, which I have with me most of the time anyway. The Advent Magnificat Companion eBook (iBook, Nook, Kindle, Kobo) is a perfect way to live Advent to the full this year. Similar to the previous Apps we have discussed, the information is presented in a day-by-day format. This year's book edition features This pocket-sized Companion follows a practical, page-a-day format and features original meditations on each day's Gospel by one of twenty-four gifted authors. Each year's Advent Companion is different from the last, and contains these one-of-a-kind extras that you won't find anywhere else: – A variety of beautiful and practical blessings – An Advent Penance Service – Specially-commissioned poetry – Advent Stations – Praying the O Antiphons I have to highlight the Advent Stations, because they are something I have never seen before. As the App explains, "The Advent Stations take us on a tour of the Old Testament." There are seven stations which help us to ponder how God prepared the world for the coming of Christ. I am very excited to use these stations to prepare my family for Christmas.If you long for the nearness of God in your life, this invaluable little booklet promises to bring you ever closer to the One who promised: I am with you always (Mt 28:20).
Confession Guide – St. Josemaria Institute (Free, iOS, Android)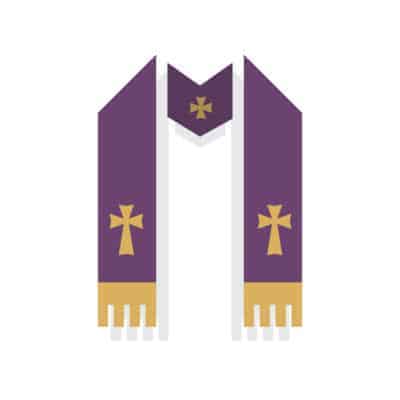 This app is based on the popular booklet Short Guide for Confession by Fr. James Socías which has helped many penitents prepare for and make a good Confession. The Short Guide for Confession provides clear instructions about what to do before, during, and after Confession. It also includes a concise Examination of Conscience, the Act of Contrition, and the Rite of Reconciliation. If you are looking for a very straightforward app without lots of bells and whistles, this is your confession app.
Children's Bible Advent Calendar ($2.99)
I came across this App in my search for this review and I think it will be a great tool to help my kids journey through Advent. It is not Catholic, so the Advent journey does not start until December 1st. The App opens up to a scene of the cave where Christ is born. There is a circle for each day in December leading up to Christmas. By simply touching one of the circles you are brought to a page where you can access a Children's Bible, which is available for free, and it leads your child through scriptures which prepare their hearts for Christ's coming. There is also an option for going through the bible stories in video format, for those children too young to read on their own. You can also access a memory verse for your children to memorize each day, while they wait for Jesus' birth. This is a great free app, which I think my kids will love using. There is a little annoying part to this one: if you see in the screenshot, when ever you open the Children's Bible it offers a math question as way to make sure you are an adult. It was a little annoying to always be answering the question.
The Star (movie)
This Christmas season (starting on November 17, 2017), you're invited to discover the story of the first Christmas… from an entirely new perspective. In Sony Pictures Animation's THE STAR, a small but brave donkey named Bo yearns for a life beyond his daily grind at the village mill. One day he finds the courage to break free, and finally goes on the adventure of his dreams. On his journey, he teams up with Ruth, a loveable sheep who has lost her flock and Dave, a dove with lofty aspirations. Along with three wisecracking camels and some eccentric stable animals, Bo and his new friends follow the Star and become unlikely heroes in the greatest story ever told – the first Christmas. It likely won't be biblically accurate, but it will allow children to be immersed in the world of Jesus, Mary and Joseph. You can view more details on The Star at the official Sony pictures website. We will update this will a link to the movie, when it is available for purchase. So maybe there will be a fun movie available for Advent 2017.
Sponsored Advent Items from CatholicCompany.com
Jacquie Lawson Artwork Advent Calendar (Prices vary)
We have been gifted with this advent calendar each year for the past few years. It is cross platform, which includes a desktop option, which is where we use this app. Although it isn't spiritual, it is very beautiful and fun! It gave our children the feelings of anticipation that I enjoyed as a child, as Christmas approaches. It also gave us, as parents, an opportunity to talk about what advent is and isn't, and what it is supposed to do for our hearts.
Spotify
We've put together a great Advent playlist to get you into the spirit of preparation. The Essential Christmas Collection has come great music, including Matt Maher. The Gregorian Calendar (Advent) There are more, just do a quick search for advent Christmas.
If you have a subscription to Formed.org, you already have a great resource!! If you don't have a subscription, then you can grab the Formed app, and try it out. In the app, there are several great resources for Advent, just do a quick search for Advent, and you will find. Including:
Mary of Nazareth is an epic motion picture on the life of Mary, mother of Christ, from her childhood through the Resurrection of Jesus. Shot in high definition, it was filmed in Europe with outstanding cinematography, a strong cast, and a majestic music score. Actress Alissa Jung gives a beautiful, compelling, and inspired portrayal of Mary.
Advent for Discipleship Groups. "It's beginning to look a lot like Christmas," or, at least that's the assumption based on that familiar holiday song. But what does that look like at your house?
Video reflections on Advent
Books on Advent, and more.
Try out the formed.org app today. Often referred to as the "Netflix for Catholics", the FORMED iOS App by the Augustine Institute provides convenient mobile access to any FORMED subscriber. Just login with your existing FORMED credentials and access thousands of video-based study programs, movies, documentaries, audio talks, audiobooks and even eBooks onDemand. Let these materials facilitate your spiritual journey as you try to more fully understand, live and share your Catholic Faith. Don't have a FORMED account yet? Visit formed.org to create an account.