[vc_row][vc_column][vc_single_image image="2382″ img_size="full" add_caption="yes" alignment="center" style="vc_box_shadow_border"][/vc_column][/vc_row][vc_row][vc_column][vc_single_image image="1403″ img_size="full" alignment="center" style="vc_box_shadow_border" title="Free"][/vc_column][/vc_row][vc_row][vc_column][vc_column_text]I love Christmas, I really do. It is my favourite season and advent has to be one of my favourite journeys every year. I love the building towards and anticipation for the celebration of Christmas. I find that Advent provides me with time to prepare and a time to focus my heart on Jesus. Perhaps it is just that there is a reminder everywhere that Christmas is coming. Even in the secular world there are signs everywhere that Christ is coming, even if not everyone recognizes it as such. The reality is that the whole world in anticipation, waits for the coming of Christ.
In preparation for the beginning of the wonderful season of Advent, here are 6 Apps that are going to help you make this Advent, your best advent yet. I tried finding more apps – but I was really surprised at how few spiritually centred Advent apps where available. November 27, 2016 starts this year's journey, get on board!
My Top Advent App for 2016
Xt3.com's Xt3 Advent Calendar 2016 (Free)
Xt3.com has put together a number of fantastic apps, like their Xt3 Lent HD App (which we reviewed over here).
Each day you will see a new feature, including a daily reflection and bible quote, as well as a multimedia item of interest. You will only be able to view the calendar features up to the present date. The first calendar feature will appear on 27 November 2016, the first Sunday of Advent. So there is a bit of anticipation.
An internet connection will be required to view linked content, so make sure you have an adequate data allowance with your device if you wish to view them.
The app is available on iOS (iPhone) and Android. There are two versions for iOS, HD (higher resolution) (iPads) and the smaller version for phones.
Xt3.com and the Xt3 Advent Calendar is an evangelization project of the Catholic Archdiocese of Sydney. An excellent tool for helping us focus on Christ throughout Advent.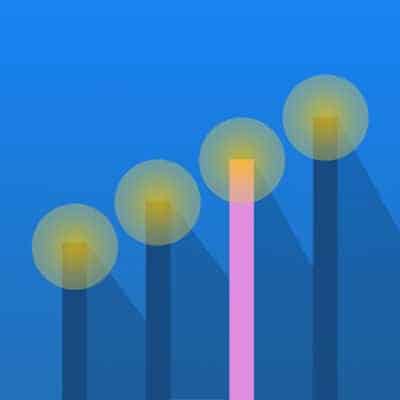 Journey Through Advent 2016 ($1.99)
Journey through Advent 2016 (iOS), illustrated by award-winning cartoonist Jay Sidebotham, invites spiritual reflection through gentle humor and is a wonderful companion for the Advent season for all ages. The app includes daily scripture readings, journaling, and the option to color and share the daily images in your journey through Advent. This is the companion app for the "Slow Down. Quiet. It's Advent." calendar series, produced by Forward Movement.
This app is pretty basic, but its message is very clear. They have a printed version which seems very popular with it's buyers. The great thing here is that you can share the image out to your social channels. What a great way to evangelize friends and family during Advent.
Is it worth $1.99? I say yes, because of the ability to share the (artwork) images out to your social channels. I love that option! I am also keen on paying artists for their creative works so the small fee for this app is worth it in my opinion. $1.99 (A cup of coffee at my local coffee shop), gives me lots of opportunities to share Advent with my friends.
There is also a little place to keep little journal entries. I have other apps that do this well, so I won't be using this one. But it is available if you don't already have a place for entering your spiritual notes.
The App states that the colouring pages, "…have been VERY popular in our congregation for years. People color them day by day and it's a beautiful expression of the season as it unfolds. The one for Lent is similar. People may not pick up Advent meditation booklets, but these are always all taken."
Advent Magnificat Companion 2016 (iOS only, $1.99)
We loved the Magnificat app for the rest of the year, as well as the Lent edition of the Magnificat App. This special edition of the Magnificat App for Advent 2016 is just as great.
The Advent Magnificat Companion App is a perfect way to live Advent to the full this year. Similar to the previous Apps we have discussed, the information is presented in a day-by-day format. The App includes:
LITURGY – daily Mass, prayers and Scripture readings
PRAYERS – a cycle of prayers for morning, evening and night inspired by the Liturgy of the Hours
MEDITATION – daily original meditations on the Gospel reading by eighteen gifted authors
Each day of Advent contains new information, reflections, prayers and "one-of-a-kind extras" including:
blessings for an advent wreath, Christmas tree and Christmas stable
hymns
an Advent Penance Service
specially-commissioned poetry
and a unique feature called the "Advent Stations"
I have to highlight the Advent Stations a bit, because they are something I have never seen before. As the App explains, "The Advent Stations take us on a tour of the Old Testament." There are seven stations which help us to ponder how God prepared the world for the coming of Christ. I am very excited to use these stations to prepare my family for Christmas.
The App is available on iOS, or it is also available for download as an ebook for Kobo users.
A Confession App To Help You Prepare ($1.99)
Part of our family's Advent preparation is to go to confession. We usually try to do this at our local parish with our pastor, at a special celebration for Advent. I myself find it hard to properly prepare for confession, add trying to prepare my kids for a good confession, and it can be overwhelming. I've found that the following App has made it a little easier to prayerfully prepare for this beautiful sacrament.
Confession on iTunes, Confession on Android
This app is simply fantastic! It will turbo charge your confessions, you won't miss things, and it really gives you a great look at your life, a deeper look. (iOS, Android)
With a personalized examination of conscience for each user, password protected profiles, and a step-by-step guide to the sacrament, this app invites Catholics to prayerfully prepare for and participate in the Rite of Penance. Individuals who have been away from the sacrament for some time will find Confession: A Roman Catholic App to be a useful and inviting tool.
The text of this Catholic app was developed in collaboration with Rev. Thomas G. Weinandy, OFM, Executive Director of the Secretariat for Doctrine and Pastoral Practices of the United States Conference of Catholic Bishops, and Rev. Daniel Scheidt, pastor of Queen of Peace Catholic Church in Mishawaka, IN. The app received an imprimatur from Bishop Kevin C. Rhodes of the Diocese of Fort Wayne ' South Bend. It is the first known imprimatur to be given for an iPhone/iPad app.
It is worth it!
Children's Bible Advent Calendar ($2.99)
I came across this App in my search for this review and I think it will be a great tool to help my kids journey through Advent. It is not Catholic, so the Advent journey does not start until December 1st. The App opens up to a scene of the cave where Christ is born. There is a circle for each day in December leading up to Christmas. By simply touching one of the circles you are brought to a page where you can access a Children's Bible, which is available for free, and it leads your child through scriptures which prepare their hearts for Christ's coming. There is also an option for going through the bible stories in video format, for those children too young to read on their own. You can also access a memory verse for your children to memorize each day, while they wait for Jesus' birth. This is a great free app, which I think my kids will love using.
There is a little annoying part to this one: if you see in the screenshot, when ever you open the Children's Bible it offers a math question as way to make sure you are an adult. It was a little annoying to always be answering the question.
Jacquie Lawson Artwork Advent Calendar (Prices vary)
We have been gifted with this advent calendar each year for the past few years. I set it up on our family Mac Mini in our kitchen so that our kids can use it and click through the various images. It is cross platform, which includes a desktop option, which is where we use this app. Although it isn't spiritual, it is very beautiful and fun! It gave our children the feelings of anticipation that I enjoyed as a child, as Christmas approaches. It also gave us, as parents, an opportunity to talk about what advent is and isn't, and what it is supposed to do for our hearts.
Spotify!
Matt Maher, and Audrey Assad have really helped me to praise and worship God this year. These two have amazing songs that lift, and lift, and lift my heart and my soul to Heaven. Have you ever had that happen to you? Maybe it was music at church, or a song you were listening to while praying, but it just lifts you? What do I mean by "lift"? I mean that the music takes my spirit, my soul, from this earthly place and lifts it up to a spiritual place, a place that is just a bit closer to heaven. Advent and Christmas music are found on Spotify too.
The Essential Christmas Collection has come great music, including Matt Maher.
The Gregorian Calendar (Advent)
There are more, just do a quick search for advent Christmas.[/vc_column_text][/vc_column][/vc_row]