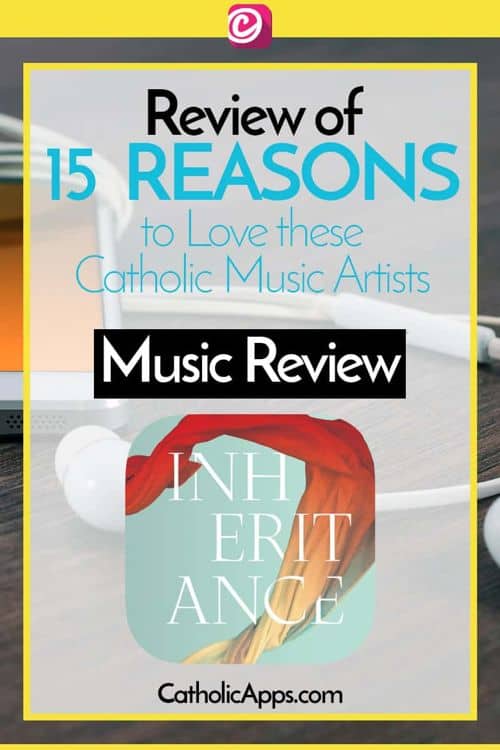 I grew up listening to music on the radio. The radio station in my home was always tuned to a country music station, which means that many songs didn't have the greatest moral or spiritual story and lyrics. My only exposure to Catholic music was in Church.
But the songs I heard on the radio were the popular ones. They are, just like on any radio station or top playlist online, catchy and fun and everyone knows them. Our ears are meant to hear, but just like every part of our body, our ears should help us give praise to God.
Since they are the 'input device' for our body, when we decide what we listen to we should be asking ourselves if our ears are encouraging us to praise God and leading us to worship Him?
With this in mind, I am focusing on two faithful Catholics for this week's review. Typically I focus on apps, but I thought I would change it up a little bit since all of their music is available both through the Android Music store, iTunes, spotify, and many of the other online streaming services.
Matt Maher, and Audrey Assad have really helped me to praise and worship God this week. These two have amazing songs that lift, and lift, and lift my heart and my soul to Heaven.
Have you ever had that happen to you? Maybe it was music at church, or a song you were listening to while praying, but it just lifts you? What do I mean by "lift"? I mean that the music takes my spirit, my soul, from this earthly place and lifts it up to a spiritual place, a place that is just a bit closer to heaven.
Matt Maher's music has that effect in my life and helps me get to that place of worship in my prayer. Have a listen to two of Matt Maher's songs on YouTube and let his music
Matt Maher - Because He Lives (Amen)
If Matt Mayer takes me to a place of worship, then Audrey Assad helps me focus on the words of scripture and reminds me of the promises of Christ. Assad likens her latest album to a film score.
I found this to be an accurate comparison with her rich soundscapes and the beautiful instrumentals which serve to really draw the listener into deep prayer. It creates a space where one can truly meet the Lord and hear Him speaking to your heart. Her music reminds me of the liturgy at mass; the experience is one of "walking on holy ground".
Have a listen to these two songs (hymns):
Audrey Assad – Abide With Me
Audrey Assad – Holy, Holy, Holy
Really, these two Catholic music artists have captured my attention and really given life to my prayer time. They can lead me to a place where I can worship, and hear God's voice, over and over again. I have also listened to these albums while working, and it has given me many moments to pause and just absorb what is being sung, spoken, through my ears and then directly into my heart.
What about the 15 Reasons to Love Catholic Music
Beautiful Traditional Hymns – Hymns have inspired generations of people, going way, way back to the early Church. We can sing those same hymns today and they still have the ability to inspire us.
Listening to music while you work will inspire you to work harder
Filling your ears with good Catholic music uses your 'input devices' to help you worship. It's interesting that a part of your body that can't express itself, your ears, can be used to lead us to an expression of love for God; responding to words of grace, love and worship.
Vote with your dollars Paying for and listening to streams of Catholic artists, allows them to grow their popularity and to provide for their families.
Christian music artists are genuinely spiritual people. Sure the Christian music industry has had its share of scandals, and anyone who wants to deify Christian musicians needs their head examined. But for the most part, the folks involved in Christian music – from artists, to publicists, to producers – have a genuine desire to serve God.
It allows us to 'feel' the presence of God. That is the whole point of all music, to put a feeling in you. Let this feeling be one that brings you closer to loving God
Music allows for a more authentic response and emotional expression. We have felt it when we sing, it is the way that we are designed. Does it override the reality of our faith, and the teachings of the church? No. It compliments them.
Catholic Music, specifically worship music, can draw us into prayer. Like I said earlier, the right type of music can lift you up to a spiritual and holy place.
David did it. And God blessed it.
The words we sing can 'get in our head'. Just like scripture that we memorize, and have in our hearts, Christian Music can help us to call up words of praise, prayer, and worship.
My kids can listen with me, and I have no fear of the lyrics. That's a big one for me, I can put any of these two artists playing and have no worry that my kids will hear something that is off colour.
It inspires me. I am a graphic designer, and nothing inspires me more than listening to a great album. The music make time, and my creative powers, move faster. Just as it inspires my prayer, it also inspires my art and my work.
I love to sing. My heart rejoices in singing. Secular and Christian, but Catholic music makes my heart soar!
It is biblical. Think about the book of Psalms, an entire book of the Bible that was originally set to music. Then we have passages like Colossians 3:16, "Let the word of Christ dwell in you richly, teaching and admonishing one another in all wisdom, singing psalms and hymns and spiritual songs, with thankfulness in your hearts to God."
It glorifies God. In every aspect it glorifies God, the words, the inspired writer, the inspired musicians, and those that join in with them to honour God. The bible says that if we don't sing out, then the rocks will cry out!
Prayer will always make you grow deeper in love with Christ. This means that if the (Catholic) music that you listen to helps you to pray, then that music also helps you to grow, which is exactly why God gave us ears! Go Ahead! Grow.
This week's app pick could be spotify, you can listen to both of these featured artists on spotify, as well as many other Catholic Music Artists.