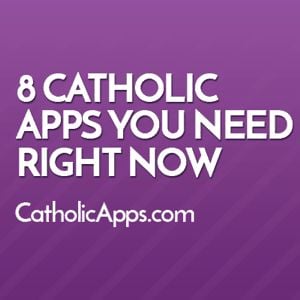 With over 1 million apps in the Apple App Store, finding useful, must-have iPhone apps can be a difficult process. Finding the best Catholic Apps can even be more difficult.
The following is a list that showcases 8 of the best, must-have iPhone and iPad apps that you may not be familiar with, and includes iPhone applications for news, weather, productivity, games, photography, and finance.
If your favorite iPhone app isn't on the list, tell us in the comments below!
iBreviary TS Plus
iBreviary TS Plus iTunes, Android, Blackberry
When I was in seminary, I was introduced the the heavy books of the "liturgy of the hours". This is it, lighter, more beautiful, and the pages never tear out. I love it! You can also pray online (no app needed), but the app has lots of great bells and whistles.
The developer is working on a Apple Watch version as well.
We want to continue to provide quality products. We want to achieve for you myiBreviary, the version of iBreviary Pro Terra Sancta for Apple Watch. But we want to involve you in this wonderful and exciting adventure in the service of faith and prayer.
iBreviary is the Catholic application that brings you the traditional prayer of the Liturgy of the Hours and all the texts of the Eucharistic Liturgy on your iPhone, iPad and iPod touch.
iBreviary TS Plus "Pro terra Sancta" wishes to contribute, through a partnership a partnership with the Custody of the Holy Land, to the development of friendship and prayer for all Christians living in the Holy Land.
Confession
Confession on iTunes, Confession on Android
At first I know there were lots of clergy that didn't like having a phone in your hand during confession. But this app is amazing, it will turbo charge your confessions, you won't missing things, and it really gives you a great look at your life.(iOS, Android)
iPieta: The Catholic Church in Your Pocket
iPieta on iTunes, iPieta on Android
You can have a look at my review over here. But really, as a Catholic there are plenty of distractions that make it hard to focus on prayer and traditional Catholic readings.
But thanks be to God for Catholic App designers, especially the team at iVerbum when they created the gem called iPieta!
The Pope App
I love the Pope App.
Why? Because it is fun. It is always up to date and changing. It is has a lot packed in there, not just the twitter feed. It allows you to keep up with the Pope, his messages and his travels. It includes the ability to monitor The Pope's official Twitter account @pontifex, texts from the Pope, live and recorded videos, and more.
You can check our review of the pope app here.
Pinterest
Pinterest on iTunes, Pinterest on Android, Pinterest on Windows Phone (third party, not official), Pinterest on Blackberry (link to website)
Is it really an app, well, not really. Does it help my faith? The app in itself doesn't but the boards and ideas out there for faith are Awe-Inspiring! Seriously, if you are looking to bring faith into a craft, project or event, this the place to look. You can follow us at CatholicApps.com We find podcasts, clothes, and more that all have great connections to your faith. We even pin out latest posts to the site so that you can keep up there as well.
3-Minute Retreat
Download Loyola Press's free app, the 3-Minute Retreat, for a peaceful prayer experience that helps you re-connect with God, re-center your day, and relax. Every day, the app guides you on a replacement bite-sized retreat crammed with Scripture passages, soothing music, and reflection questions that you simply can pray at your own pace. be a part of the thousands of 3-Minute Retreat users who come back on a daily basis to complement their spirituality and rest in God's tender presence.
Begin your retreat today! Those 3 minutes of peace are simply a click away.
The Rosary of the Hours
The Rosary of the Hours on iTunes
Over the course of centuries, the Church introduced the Rosary, a simple yet profound prayer for praising God and meditating on the holy mysteries of Christ and His Blessed Mother.
St. Paul called the young Church to pray always. And even though we are in a century of tiny phones, now there is a way to pray the Rosary "around the clock," whereby a decade, with its own special theme, may be prayed for each of the twenty-four hours of the day.
The Rosary of the Hours includes the full, original text of the Rosary of the Hours, as well as a convenient reminder system that can be customized to fit your schedule. You can post to Facebook and Twitter regarding your prayers, intentions and devotions, allowing you to pray both for and with the universal Church in a new way.
Chrome
Chrome on iTunes, Chrome on Android, Chrome on Windows
Here is the exception. Is this a 'catholic' app? No, However, chrome makes my life, and writing this blog A LOT easier. This is my browser of choice on all my devices. I especially like the way it syncs bookmarks and pages across platforms. Your history from other devices shows on all devices, as well as passwords sync across multiple devices.
Today I use my iPhone, iPad and Mac to keep track of most of the moving parts of my complicated personal and professional life. And I am sure you do too, are there apps that you enjoy, Catholic or not Catholic, let me know in the comments below!