Ave Maria Radio App: Catholic Radio App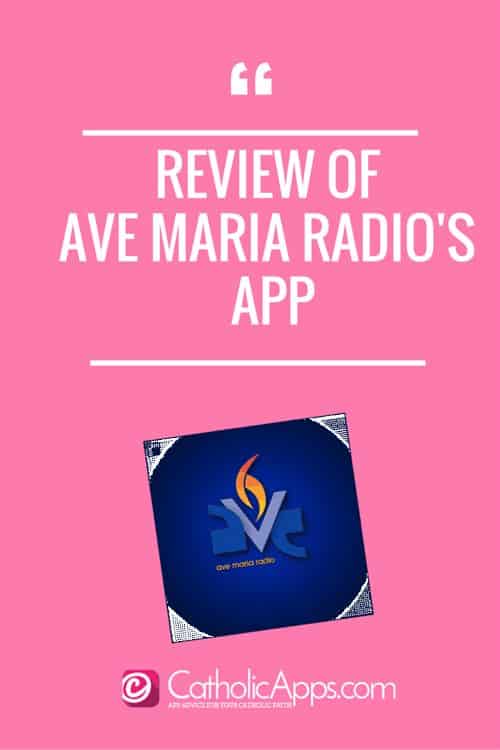 Free
Ave Maria Radio just released a brand new version of their Catholic radio app and it is a completely new user experience.
This app provides easy access to their live stream, audio and video on demand, as well as a totally new feature: a the Truth and Life Dramatized audio bible built right into the app! This bible is fully functional, giving you the ability to highlight and take notes, bookmark your favorite sections as well as have the New Testament read to you!
I live in an area where there isn't Catholic Radio. We have one automated Christian music station that is local, but it is all music. I have listened to Catholic Podcasts for a long time. This app another great app that allows me to connect and listen to great Catholic content.
The app has a great easy to navigate main menu!
Ave Maria Radio Live Listen on your iPad or iPhone
Truth and Life Audio Bible
A big part of this new version of the app is the addition of the Truth and Life Audio bible. The price of the in-app purchase is 19.99. Which may be a great value if you don't already have an audio bible. One really helpful features of this version of the audio bible, is that you can add book marks, references, notes, all while listening.
There is a great sample of the voice work, for the first chapters of Mark. It isn't just read to you, it is more like an audio book, there is background mood music. It sounds really good. I enjoyed listening to it. Even though it is part of the app, it isn't necessary to purchase it if you already have an audio bible.
Some Help on How This Great Catholic Radio App Works
Navigating the New Truth and Life Audio Bible didn't seem all that easy for me at first but once I figured it out, it was quick to get around.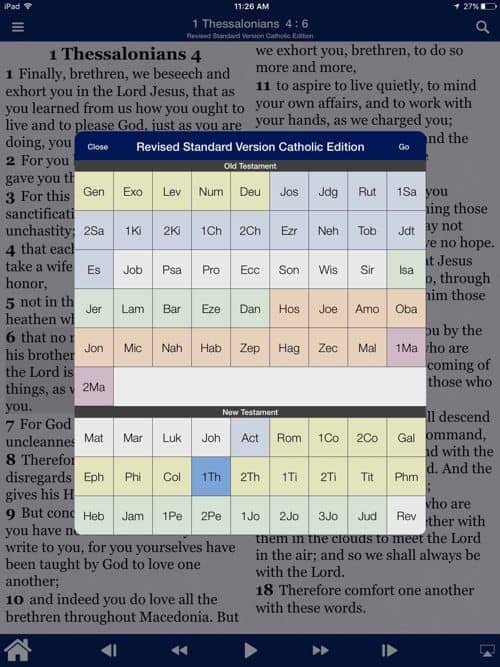 If you want to jump to another part of the bible, just tap the Book name at the top of the screen. You can then pick a new book, chapter, and even verse to go to.
Turning pages is as simple as swiping to the left or to the right.
The on demand video library consists of Five sets of Video:
Kresta Comments
Free Range Q &A with Al Kresta
Long Story Short
Featured Videos (which are selected highlights)
Ave Maria on Location.
The audio on demand lists all of the shows that are archived, like a podcast library. These are all streamed and not on your device, so don't worry about filling up your device. space.
Christ is the Answer (Fr. John Riccardo)
Kresta in the Afternoon (Al Kresta)
Catholic Connection (Teresa Tomeo)
More2Life (Greg and Lisa Popcak)
Church and Culture (Deal Hudson)
The Doctor is In (Dr. Ray Guarendi)
Power from the Pews (Peggy Stranton)
The Good Fight (Barbara McGuigan)
Stories from eh Heart (Sandra McDevitt)
Fire on the Earth (Peter Herbeck)
Food for the Journey (Sr. Ann Shields)
Christian Classics (Theresa Hofer)
Putting on the Mind of Christ (Henry Root)
The Ave Maria Radio App is a great resource to add to your devices. It is available on iOS (iPads, and iPhones), Android (Google Play, and Android (Amazon App Store)