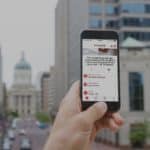 Living with Christ (US & Canada) Prayer App
[vc_row][vc_column][vc_single_image image="1352″ img_size="full" alignment="center" style="vc_box_shadow_border" title="Free"][/vc_column][/vc_row][vc_row][vc_column][vc_column_text]
Living with Christ
, a daily spiritual companion, now comes in a
handy app format
. Offering the texts readings of the Catholic liturgy, as well as a range of prayers and information to help guide and inspire your prayer life.
This app is excellent, and simply and easy to use. Since I am located in Canada, I have the Canadian Version (iOS and Android), but there is an American/ World wide (yes, I checked the Philippines and Mexico specifically!) (iOS and Android) version as well.
Daily Catholic Readings
Living with Christ publications provide the missalette that you are used to using and seeing in your parish. It has the daily readings for the weekends and/or week days. This free app from Novalis is designed to supplement your monthly missalette, keeping you connected to Living with Christ no matter where you are.
In addition to the daily Mass readings, the app offers seasonal collections of daily prayers, as well as images for meditation, a colour-coded liturgical calendar with feast and saints' days. Navigation is easy, and the text size can be adjusted for easier reading.
You can use the Living with Christ app to prepare for daily Mass or to assist you throughout the day as you take time to pray. This would be great for priests/ deacons in preparing homilies, and even for all of us lay people to be ready and prepared before mass. There are occasions that I miss out on the readings. I have four little ones with us at mass and life happens, so this gives a great opportunity for parents to take a minute before mass and read through the readings.
Saint of the Day Highlights (or Daily Feast Days, or Celebration Days)
This is just one line on the daily summary that allows for you to see and click on details of what the special day is. Easter Weeks, Saint Feast Days Lent and Advent, all appear here.
Prayers
This section is currently divided into eight neat sections.
Children's Prayers
At the Table (6 great grace before meal prayers)
With the Pope (Not currently functioning on my app)
To Saint Joseph
Lectio Devina (A quick How to and prayer)
Traditional (8 Of the current most common prayers)
With the Eucharist (Two prayers, Anima Christi and an Act of Spiritual Communion)
To the Virgin Mary (5 Holy Prayers here)
Even though the prayer section is a little sparse, one of the great items in this part of the app is the ability to SCHEDULE a prayer. You can pick any of these prayers and schedule a reminder for yourself. Bingo! Never forget to pray a prayer regularly again. This little gem in this app is simple and quick to set up. LOVE it!
We would love to see a few more prayers (even categories set into the app), and we are putting that with the design so only 4 stars for that. Other than more of what we like, we can't find anything else wrong. And did we mention that it is FREEEE?
Paper Version
If you are still looking for the paper version. Have a look here. You can order it from Amazon.com
[/vc_column_text][/vc_column][/vc_row]
Comments