The Word Among Us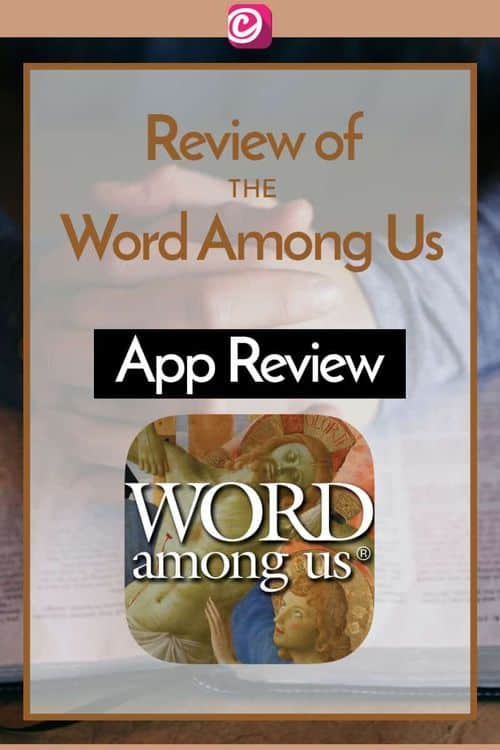 Free
I've been trying out the free 14 day trial of "The Word Among Us" online this week. I must say I have been pleasantly surprised.
I love "The Word Among Us", always have. Although I haven't always been a faithful subscriber to the magazine, any time I'm able to get my hands on a copy of the monthly devotional, I LOVE it! The daily readings so easily accessible, the daily meditations so pertinent to daily life, the additional inspirational stories- all of it just speaks to my soul!
A Company with Staying Power
So why have I been surprised by how much I like the app? Well, I guess I had my doubts that a company that has been around for 34 years, their first publications came out on December 1981, would actually meet my online expectations. But they did! They have created an app that is user friendly, provides all the pieces of the devotional that people would expect and more, and is so easy to use that my 89 year old grandfather (a faithful "Word Among Us" Subscriber) could easily navigate. Bravo! All of that is not easily accomplished.
The Essentials for Daily Readings
The first thing I wanted to see when I went into the app was the daily readings and devotionals. The creators anticipated that fact and that is pretty much front and centre when the app opens up. There are also other articles highlighted that can be selected easily. It is all laid out so well with no guessing required for where the main content is kept.
The second thing I wanted to see was the daily meditation. I thought I would have to look for a menu to find that piece, since in the hard copy the mediations are kept separate from the daily readings…it's actually a bit of a pet peeve of mine. Well they must of read my mind, because in the app the meditation can be found at the end of the daily reading, so you can just keep scrolling without an interruption to your prayer time. Thank you "Word Among Us"!
The menu is easily identifiable on the home page by 3 lines in the top left corner.
By clicking on that, you access a simple table of contents type menu that gives you 5 simple options.
The menu options are really self explanatory – which again I love – no guessing! What I wasn't expecting here was the easy access to past issues. They had issues dating back to 2011! I'm not sure if I would ever have the time to go back and read them, but I'm sure this is a feature that would greatly please my grandfather.
The Resources section was nicely organized into appealing sections:
Marriage and Family
Personal Spirituality
Prayer
Heroes of Faith
Lots of wonderful articles to inspire and support our faith life right at our finger tips!
So nothing is perfect, though this app comes close. The first annoyance with this app came before I opened it. When the app downloads it goes directly to the newsstand. I wasn't expecting that, I was looking for an icon…took me a while to find. Maybe I should have expected it to be in the newsstand, since the hard copy is a magazine, but I wasn't! Maybe it was in the description of the app when u searched for it, but in this case since I knew what "The Word Among Us" was I didn't bother with the description. So it might have been my bad, but it's not my fault:)
The Cost
$1.99 is a very doable subscription cost. It is equal to or less than a cup of coffee, or a small drink and well worth the cost. I hope you can find this to be the case as well.
Wonderful App – Wish it Cost a Bit Less
I would totally buy this app over subscribing to the print version – I found it to be an improvement over the print copy. I think I might convince my grandfather to change his subscription over to just online. He currently gets the print copy, which gives him access to the web addition…but he doesn't have a desktop, so it does him no good. I think he would find it easy to navigate and a great addition to his reading, with access to past editions. I think I may subscribe as well, although I might wait to see if the price goes down a bit:).
I have always found "The Word Among Us" to be a wonderful resource which helps me to take time in daily prayer-anything that accomplishes that is a good thing in my books.
In the true spirit of "The Word Among Us" I want to close with a quote from the Daily Mediation for Wednesday April 20th that I found especially life giving. It is particularly appropriate in this Year of Mercy.
"Come into my light, for there you will experience the warmth of my love for you. It is cold outside in the darkness. Come and be warmed by the light of my love. Don't ask if you are worthy to come. Don't list all the things you need to fix first. Your coming does not depend on your worthiness.
It depends on my mercy, and I have already done all that is necessary for you to come! I have already endured the cross. I have already risen from the grave. I have already ascended to heaven and poured my grace into your heart. So come! Come into my light, and let my love warm your heart."