iRosary: An Catholic Rosary App For Prayer
$3.99
What makes iRosary so special? For starters it should work on old iPods, iPhones and iPads, it requires iOS 4.3, which according to Wikipedia, "It also was the last version to support iPhone 3G and iPod Touch (2nd generation)." Awesome, because I have an old iPod that my kids use for music.
I'll add this to their iPod so that when they are curious they will have a couple of apps that still work! This app doesn't need wifi (other than to download and install, but on older devices that is done via USB anyway). The iRosary catholic rosary app has been around for a long time, and when it was developed it was definitely innovative.
Many of the newer Rosary apps, like the Audio Rosary App, and the Scriptural Rosary App, may have looked to this iconic app for design indicators. The Rosary is a part of other apps too, like the Catholic Mega App. But this app is different, it's been around for a long time.
The Rosary On Your iPhone
iRosary for the iPhone and iPod Touch displays a fully-animated set of Rosary beads that flows across your hand as you move it with your finger, like a standard Rosary. It is designed so that when your phone is in your hand the beads can be slid up and down.
You don't even need to look at your phone while praying if you don't want to because the iRosary app supports VIBRATION, this means that each time you slide to the next bead you will feel a little bump in your hand. HELLO? GENIUS! But wait you say, what if you are left handed? With a slide, you can drag the beads to the other side of the screen, and there you go. It's praying the rosary with your left hand!
Two Different Sets Of Inspirational Artwork
For those new to the Rosary, there is no easier way to learn this perfect prayer which engages the body, mind, and soul, while meditating on the life of Jesus Christ. Those who pray the Rosary regularly will appreciate how closely iRosary resembles a traditional Catholic Rosary. A lot of friends and their families use images while praying the rosary.
Our family participates in having a traveling icon of Mary, we spend three days with the icon in our home each month. Having the icon in the center of our living room while we pray gives our kids something to focus on.
Similarly the app engages your visual senses with beautiful artwork. But, the trick here is if you turn your iPhone, iPod, or iPad to the side … TADA you get a whole new set of images. Sneaky, but great. Like I said, this Rosary app is good.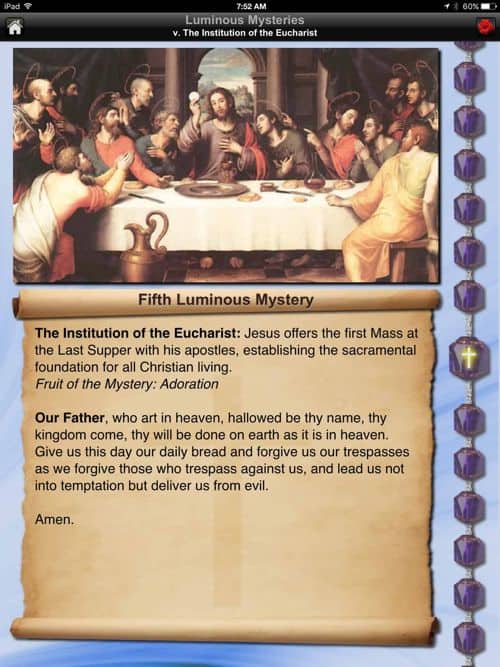 You Can Change The Look Of The Rosary
Prayer is deeply personal for everyone. I would suggest that the items that you use in your prayer walk also can connect and centre you on the Lord. The iRosary allows you to change the color and type of cross, chain and beads. It would seem a bit too much for me to always go in and change the rosary colours, BUT for my creative daughter, this gets her to come back to it.
Prayer with the iRosary App is easy, straight forward, not complicated. I enjoy praying the rosary on my iPhone, and my iPad like this.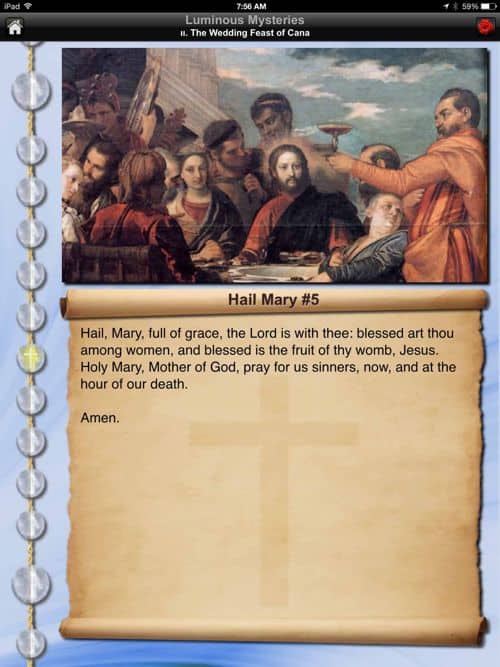 Just like a classic Rosary. Simply recite the prayer and pull the beads down to advance to the next prayer. It's that easy! They slide easily, and you can only slide one bead no matter how hard you pull them down the screen.
Easy To Read, With The Option Of Changing The Font Size
You can adjust the text size with a pinch and zoom over the text, just like a photo.
Summarized Features for this iconic Rosary App
Beads which MOVE to the touch
Create your own ROSARY DESIGN from many different crosses, chains, and bead combinations
Two sets of FAMOUS ARTWORK
Text can be RESIZED directly with two fingers for easy reading
Portrait and LANDSCAPE modes
English, Spanish, French, and Latin prayers
Correctly recommends the Mystery to pray based on the LITURGICAL YEAR
PLEASING sound cues and vibration
Use with EITHER HAND by moving the beads to the left or the right
Always REMEMBERS your place <– I LOVE THIS
Uses the same set of prayers listed on the VATICAN website
The same number of beads as a STANDARD Rosary (between bead prayers fold out)
Push beads back to return to a PREVIOUS prayer
The LUMINOUS mysteries can be turned on or off
Includes the CHAPLET of Divine Mercy and Loreto LITANIES
iRosary is a wonderful compliment to the Holy Bible! And you can pick up this app on the iTunes App store.
For those new to the Rosary, there is no easier way to learn this perfect prayer which engages the body, mind, and soul, while meditating on the life of Jesus Christ.
You can also check out the iRosary's developer's website for more information if you wish.
Don't forget you can check our other reviews as well: For Rosary apps have a read on the Audio Rosary App over here, and the this great Scriptural Rosary App.