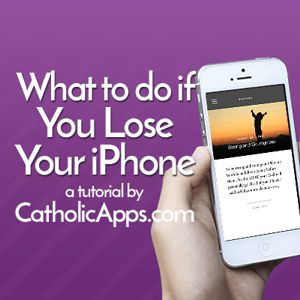 Recently one of my friends was tricked into buying an iPhone 6 for $50 from a suspicious seller. The iPhone was probably stolen and locked and he thought he would easily unlock it and use it. But, he made a blatant mistake, as that iPhone was reported lost and he couldn't use it for anything.
He could only return it to the owner. We read the owner's message as we turned on the phone multiple times and eventually reported and returned it. That is why today we at CatholicApps will explain what do if you lose your iPhone or if your iPhone gets stolen.
Every iPhone has an iOS feature called "Find My iPhone". With it you can do so many things, you can locate your iPhone, disable it, lock it, or even erase everything you have on your iPhone, like personal data, photos, users, passwords etc.
How To Activate And Use ``Find My iPhone``?
This feature is implemented without you activating it. But you need to check as this is for new devices only. If it is not activated, activate it and save yourself from many unpleasant and frustrating situations. We are talking about the iOS 7 (or later) feature called "Activation Lock".
If this is activated, the iPhone is unusable without the correct Apple ID or password (read our situation at the beginning). So, if you activate it, be sure to remember your Apple ID and password.
Activation Lock is actually the "Find My iPhone" feature in your iPhone. So, if it is turned on, your iPhone has the Activation Lock ON. To find it just go Settings > iCloud &gt Find My iPhone (usually at the bottom). Make sure "Find My iPhone" and "Send Last Location" to be activated (green).
Please note that you can also add 2 more different security walls, besides your Apple ID. We are talking about a passcode and the so called "two-factor authentication". Both will give additional security walls and make things almost impossible to hack. The person who will find or stole your iPhone will not be able to access your personal data nor your Apple ID.
How To Do Locate, Lock Or Erase Data From Your iPhone?
Ok, the damage is done. You have lost your iPhone or it was stolen from you. Now what? Now you can take advantage of the "Find My iPhone" feature. All you need to do is login to your iCloud account from any other device. If the feature is activated and your iPhone is connected to a WiFi or cellular network, you will have the exact location on a map.
Be aware, if the iPhone is completely turned off, it will show the last known location. But, it will do that only for 24h and later it will wait for the iPhone to be turned on again.
In order to do this you need to log into iCloud.com with your Apple ID (you can do this through any browser and on any computer or mobile device). Then tap "All Devices" and see the missing list. Then tap your iPhone when you see it. Then you will see a menu option "Actions".
Then you will basically get 3 actions: Play Sound, Lost Mode and Erase iPhone.
The Play Sound feature is really useful if your iPhone is lost somewhere in your house or near you. In that way you will easily find it as it will start to beep loudly. But that is the only thing you can do with it.
The second feature is "Lost Mode" which you must use if you realize that you can't locate your phone through iCloud. With it you can report it as lost. This feature is easy to activate, as the system itself will recommend to turn it on after you tap on "Lost Mode".
When you turn it on, the person who has your iPhone will get a message with your name and personal data, phone number and a note (you can write a personal message here). There is a huge chance for you to get your iPhone back, if it is really lost and found by a reasonable person. It is still a neat feature, even if your iPhone is stolen, the person that stole it will never use it or take advantage of your personal information.
The last feature is "Erase iPhone". Use this feature if you have some sensitive data that you don't want to be seen or used. This is usually done if the iPhone is stolen. With few simple taps you can easily erase everything on your iPhone via iCloud.
But, before activating this feature, we must tell you that you may not need it and don't use it too soon. The reason for this is that when you activate the "Lost Mode" the system disables any credit or debit cards you may have associated with Apple Pay. It also activates battery saving mode so the iPhone can be turned on for a longer time.
One important thing: in order of any of these actions/features to work, you'll need the iPhone to be turned on and to have a Wi-Fi connection or at least a cellular connection. In any other situation you will not be able to make use of these features. However, if they are activated, they are queued in the cloud and will be activate the very moment when the iPhone is turned on.
Possible Actions When You Lost Your iPhone
If you really lost it, accidentally, then use the "Find My iPhone" feature. No matter if you've forgot it while eating dinner, at the club or simply carefully misplaced it. The faster you react, the faster you'll find it. The iPhone will use the cellular or Wi Fi connection and continuously update the location, so you will easily find it.
Another thing you can do is report it lost to your carrier. The carrier then can do various actions like suspending service and blocking the iPhone to ever use their network.
All of the Apps on your phone are part of the iCloud service, so you can re-install them either from your account on a new device, or from your iCloud Backup. BACKUP, BACKUP, BACKUP! However, without a backup, your settings and saved items will be lost, and some apps, they will not be retained at all.
However, if stolen, go to the police and then use the "Find My iPhone" feature. It will help them get the location and act, instead of getting you into dangerous and unpleasant situations.
If you haven't already checked out our CatholicApps.com reviews, have a look now. Some of the top apps are the iRosary App, the Ave Maria Radio App, and even Catholic News Live.